Container Services / Transportation
The following container sizes are available for collection:
Skips with capacities of 2, 7 and 10 cubic metres
Roll-on/off containers with capacities of 20 and 34 cubic metres
Covered containers with capacities of 5, 7 and 10 cubic metres
We transport for you:
scrap
construction waste
rubbish
wood waste
green waste
You require a container?
The team at Schrott-Recycling Hof is at your disposal to respond to any enquiries, requests for containers or collection of materials, to arrange any site visits or appointments. The team would be delighted to offer personal advice on all queries regarding available containers and skip sizes: just call on our direct phone number 0049 (0) 3581 - 406468.
Skips – request a quotation!
Skip hire in Goerlitz and Oberlausitz.
Immediately upon receipt of your request we will contact you, find the container most suitable for your requirements and agree all arrangements with you.
International Transport Permit
As a recognised disposal specialist based in Goerlitz, we hold an international transport permit.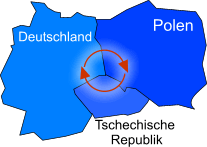 Due to our close proximity to the borders of Poland and the Czech Republic we are able to provide our services to clients in both these countries.
Germany Poland Czech Republic International Scrap and Waste Transport!